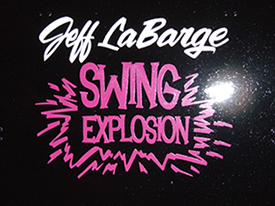 The mid-west's premier big band, Swing Explosion is the big band that can do it all! Comprised of the finest musicians from southeast Wisconsin and the incomparable Pete Sorce, Swing Explosion will add an air of excitement, prestige and sophistication to your wedding reception, corporate event or private party. Swing Explosion is also available for music festivals, dances and concert series.
Although a big band, Swing explosion excels at all styles of music. Led by one of the countries finest arrangers-Jeff La Barge-Swing Explosion can add almost any song upon request. Check out our song list for an idea of what the band is capable of!
We play a variety of styles from a variety of composers and arrangers; Stan Kenton, Woody Herman, Buddy Rich, Duke Ellington, Count Basie, Glenn Miller, Sinatra, Bobby Darin, Brian Setzer, Barry Manilow, Lionel Ritchie, Big Bad VooDoo Daddy and lots more.
Swing Explosion is an 18 piece ensemble but we can provide any size and type of group to fit any occasion. Let us know how we may make your occasion a extra special one.